MEDITATION 24/7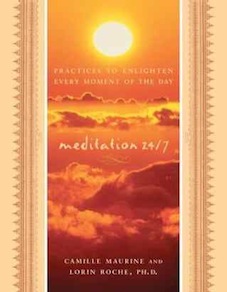 click here to order
Book and CD Ensemble
By Camille Maurine and Lorin Roche, Ph.D.
Andrews McMeel Publishing, 2004
ISBN: 0740747150, 144 pages
Practices to Enlighten Every Moment of the Day

Check out
MEDITATION 24/7: Practices to Enlighten Every Moment of the Day
! Includes an
audio CD
of Lorin and Camille guiding the practices, supported by the marvelous music of composer
Charles Bernstein.


We love to do these meditations ourselves and find that they make an enormous difference in our experience throughout the day and night. A few minutes of these brief, effective practices helps you to create the quality of awareness you want to live and breathe in. Read the short, beautiful essays and then listen to the meditations on the CD throughout the day.
"I listen to MEDITATION 24/7 like I would a beautiful score for my favorite movie. No need to sit at attention or announce, "I am now going to meditate." Effortlessly, I immerse into the inviting pulse and soothing message to find myself instantly connected to my innate inner rhythm. I am alive and content! What a poignant reminder!" - Ilene Segalove, Author of best selling List Your Self
"This is the most accessible book on meditation ever! This book teaches that meditation is really no more than learning to slow down long enough to appreciate and enjoy your life. By pointing out various transitional moments throughout the average day that can benefit from increased awareness,
MEDITATION 24/7
incorporates life-enhancing practices and techniques into real life. Reading the book was inspiring, and practicing just a little of what this book has to teach each day can be of tremendous benefit to anyone. I highly recommend this book." - Lawyer Guy on the Go


"Bravo! MEDITATION 24/7 is an amazing reflection of years of study - succinct yet creative. This is exactly what people need in this crazy stressed out world. The book is so appealing, personal, and accessible. It is packed with "doable" user-friendly gems of insight, wisdom, and suggestions. Thank you for your devotion to this topic." - Dr. Pamela Hogan, Counseling Psychologis
t
MEDITATION 24/7
Practices to Enlighten Every Moment of the Day
By Camille Maurine and Lorin Roche, Ph.D.
Music by Charles Bernstein

Playlist of the practices:

1 AWAKENING 6:39
2 FILL YOUR CUP 5:36
3 GROOM & ZOOM 3:40
4 GOOD TO GO 2:19
5 MOVE IT 7:13
6 FEAST YOUR SENSES 2:47
7 MINI SIESTA 3:48
8 WAIT UP 4:05
9 ROAD PEACE 6:40
10 COMING HOME 7:11
11 PARTY ON 5:32
12 HEART WARMING 5:39
13 FALL INTO SLEEP 6:48
14 STILL OF THE NIGHT 6:45


"Meditation 24/7
, in a word, is expansive. When listening to it, I found myself immediately transported and beginning to open up. I began to give myself permission to experience some very profound elements of peace and rest. With this came a rush of emotions that were set free. I felt a deliverance and even more profound tranquility.

"There is a wonderful aspect of adventure and travel that takes place with
24/7
. Lorin & Camille become your tour guides, giving succinct directions and maps in mellifluous speaking tones. You find yourself traveling in a friendly, beautiful, sensuous and amazing universe that you create together.

"Practically speaking,
24/7
is a refresher course in reminding us who we truly are, and gives us a tool to explore this potential while approaching our daily activities in a conscious, delighted and peaceful way.

It is a gift we give to ourselves and the Earth. I highly recommend this book and CD for anyone of any age.
24/7
is like an emotional and spiritual shower. After listening to it, you feel cleaned, refreshed and ready to fly…"

- Reviewed by Richard Kinsey, Actor, Singer, and Illustrator



You can buy the book now from