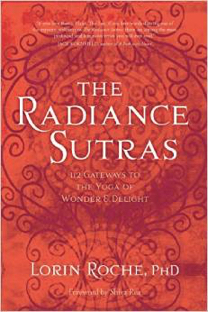 The Radiance Sutras
by Lorin Roche, PhD
click
here
to order
THE RADIANCE SUTRAS

112 Gateways to the Yoga of Wonder and Delight

by Dr. Lorin Roche
At once a beautiful love song and an encyclopedia of yogic techniques, the cherished text known as the Vijnana Bhairava Tantra shimmers with new effulgence in Lorin Roche's
The Radiance Sutras
. Lorin brings us his unique perspective on each of 112 Sanskrit teachings, along with his one-of-a-kind guidance on how to meditate with, embody, and practice them— what he describes as "answering the call of the sutras you love."


Lorin's sensuous, poetic translation of the Vijnana Bhairava Tantra has ignited the yoga world.
Read more about the Sutras on
Lorin's website
.
Sounds True published a new edition of
The Radiance Sutras
– released on August 1st, 2014. The new book includes updated sutras, extra new material, and beautiful essays for each and every one of the 112 Sutras – Illuminating, insightful ways to enhance your engagement with the Sutras, and go deeper in your meditation practice. There is also a new forward by Shiva Rea.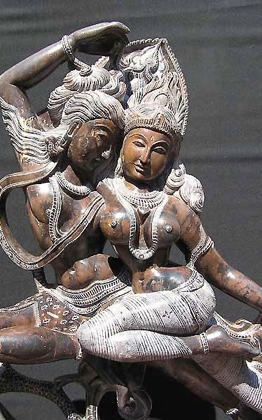 "Lorin's Radiance Sutras evoke spontaneous joyful insights into the nature of reality, self, and existence. I have always felt that there is a passionate heart implicit in the Sanskrit language. Lorin unfolds the underlying significance of the Vijñāna Bhairava text beautifully, revealing layers of meaning woven into poetry to awaken contact with the Soul." – Deepak Chopra MD, Author of You Are The Universe

"If you love Rumi, Hafiz, The Tao, if you love words dancing out of the mystery, welcome to The Radiance Sutras: these are among the most profound and luminous verses you will ever read."
-JACK KORNFIELD, author of A Path with Heart

"If you are wild and longing for a more profound experience of love, this book is the perfect companion and teacher. If you're afraid to explore the inner reaches of your heart but long for that freedom, you can trust the magnificent journey The Radiance Sutras offers. You will be blessed by this book – it will forever change you in the most positive, surprising ways."
- JUDITH ORLOFF, MD, author of The Ecstasy of Surrender

"Lorin Roche's poetic renderings of the Vijnana Bhairava Tantra are a gift to anyone who loves the inner world. They arise from the currents of his own meditation, grounded in deep practice. These verses can draw light into your sitting practices and shed wisdom into your days. Keep this book by your bed, hold its inspiration in your heart, and let these verses pulse through your life with the radiance so of the tantric revelation."
- SALLY KEMPTON, author of Meditation for the Love of It and Awakening Shakti

"Lorin Roche's Radiance Sutras present the most inspiring translation of the Vijnana Bhairava Sutras I have ever encountered. It is juicy, hip, intelligent, inspiring and the best companion for your daily life. We all need daily reminders to 'Celebrate the boundary where body meets infinity.' This book is a must read!'"
- MARGOT ANAND, author of The Art of Everyday Ecstasy and The Art of Sexual Ecstasy

"Lorin Roche is a tantric troubadour! His engaging and lively version of The Radiance Sutas captures the joy and spontaneity of the original Sanskrit and is a unique window onto the meditative experience."
- DAVID GORDON WHITE, author of Sinister Yogis and Kiss of the Yogini

"A treasure trove of invaluable spiritual jewels. Pick up any of these jewels and behold, as precious esoteric knowledge suffuses your entire being with ineffable joy, love, and 'knowing.'"
RAZ INGRASCI, chairman, Hoffman Institute International



PURCHASE YOUR COPY NOW

WHOLESALE ORDERS
For Yoga Studios, Teacher Trainings, and resellers wanting 10 copies or more, please contact us directly.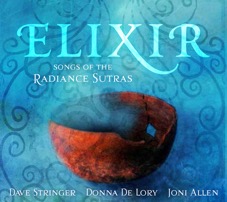 ELIXIR: SONGS OF THE RADIANCE SUTRAS
CD by Dave Stringer, Donna De Lory, Joni Allen

~ ~ ~
Syzygy Creations, Inc.

PO Box 9325

Marina del Rey, CA 90295 USA

[email protected]

Contact Camille Maurine or Dr. Lorin Roche