Two Free Introductory Teleseminars!
With Author Camille Maurine

Invitation and Mini-Journey– May 23rd, 2018
Q&A about the Course – June 2nd, 2018

(recordings available below!)
One of my great joys is communing and communicating with women around the world. Joining together in loving awareness and support is especially important at this potent time on Planet Earth.


The lives of contemporary women are full on – we are navigating a hot mess of opposite energies and needs, a syzygy of complementary movements. The good news? When embraced with consciousness, this inner dance can lead us into greater vibrancy and wholeness.

Combine that intimate dance with what's happening in the world…well, let's just say it's intense. The problems we face as a collective are not likely to disappear anytime soon. The upheavals in the United States bring added uncertainty, affecting not only this country but humanity as a whole. It is a wild ride.

Women of wisdom and men of heart are responding to the planetary call, co-creating the healing paradigm of cooperation, sustainability, and respect for all life. This is Big Magic (thank you, Liz Gilbert). I am grateful to be sharing that awareness with my husband and co-author, Dr. Lorin Roche. In answering that call, the challenges are great, both personally and globally. Yet within all this intensity is the possibility for transformation.

Sustainability has to start right here, in this very body and heart. We must have ways to tune and balance all our energies, strengthen our inner roots, tap into new resources of courage and inspiration. I call this our female energy ecology.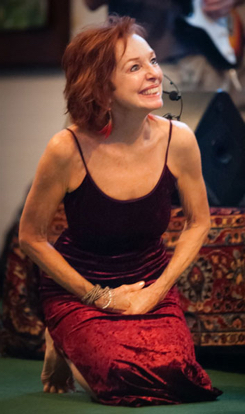 That is why I'm offering these free teleseminars and why I'll be teaching a new 12-week
Meditation Secrets for Women Course
,
focused on strengthening our inner roots of…


LOVE WISDOM POWER

Think of those as one word – an expression of our essential female energy that is so needed at this crucial time on Earth.

These two preliminary teleseminars give you a taste of the depth and power of what we share on the Course, and stand on their own as a brief sanctuary within the chaos. Come tune up your energies with embodied meditation, soulful musing, and heart-centered discussion:

June 2nd Q&A with Camille and other women around the globe with details about the Course – go here to Listen to the Replay

Invitational Teleseminar (May 23rd) – a meditative mini-journey into Love Wisdom Power. Receive immediate access to the recording: Sign up on the form below.


Let's nourish our creative flow, step forth in fullness and freedom,
and go deeper into the mystery of being alive.


Yours in love and wonder,