ARTICLES by Camille Maurine

Love Is Particular

Secrets of Intimacy

Your Real Body

The Dance of Life

Intimacy

Kali Guide

In Moving

See also: Letters from Camille


INTERVIEWS

Here are a few radio/video interviews and pieces I have written for magazines and e-zines.


"The Mystery of Incarnation" ~ Somatic Speakers Telesummit ~ Camille is interviewed on the mystery of incarnation at this amazing teleseminar series with associates of Continuum, produced by Teri Carter. Listen in now

Meditation Secrets for Women ~ Camille was interviewed by Cassandra Herbert of JustBeeWellness, June 20th, 2012. Here is the link to the replay.

Camille Maurine, Dr. Judith Orloff, Deena Metzger ~ "Creativity, Consciousness, Health, and Healing" ~ Scripps College, Claremont, CA.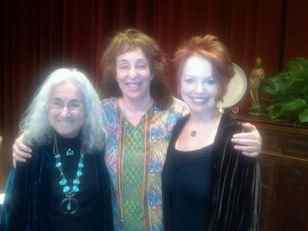 Deena, Judith, Camille
On February 26th, 2011, three powerful women artists, creators, and healers discussed what creativity and consciousness have to do with health and healing. The event was moderated by Alumna-in-Residence, Bella Mahaya Carter.
Part one
and
part two
.


For an illuminating written interview with Camille and Lorin about MEDITATION SECRETS FOR WOMEN, visit the
Exploring Womanhood
website. Also, you can
click here
to check out their book endorsement.

Camille is featured as the "meditation expert" in the first edition of
THE KALI GUIDE,
a wonderful directory of resources for women edited by Stelli Munni.
This is a great introduction to why women need their own approach as put forth in
Meditation Secrets for Women
. Read it by
clicking here
.

"Your Real Body"
~ an article Camille wrote at Jennifer Louden's request for her marvelous website and newsletter, can be found
here
.
Jennifer is the author of the Woman's Comfort Book series, and the book,
Comfort Secrets for Busy Women
, which I heartily recommend.
Praise from Jennifer Louden:
"I met Camille via her powerful book,
Meditation Secrets for Women
and then when she attended a coaching day I helped lead. She's full of wisdom, humility, and grace, and I love her guidance of discovering a personal, female, body-centered style of meditation. And for guys, try Camille's husband's book,
Whole Body Meditation
."
"The Dance of Life"
~ An in-depth article on movement, body, and spirit written by Camille for Crescent Magazine (Spring, 2003). Read the article by
clicking here.


Check out this meditation article in
Body & Soul.
This was the first issue since the magazine was bought by Martha Stewart's Whole Living, and I'm proud to be part of it (the June 2005).

"In Moving" ~ Camille's prose/poem was published in the Elmwood Institute Newsletter on "Art and Spirit" (Winter, 1990). Read

For Women: See more here.

A video interview by Arian Young of The Intrinsic Group with Lorin & Camille at Esalen Institute, June 2011:

Buy Camille's books now from



click on the icon

Camille Maurine
P.O. Box 9325
Marina del Rey, California 90295
310 821-0620
Contact Camille